PILOT DEBRIEF WITH
MARK "SKIPPY" LANKFORD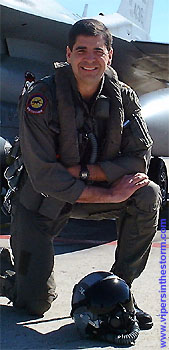 1) Flying the F-16 Fighting Falcon, especially in combat during Operation Desert Storm, is a thrill few individuals have experienced. What inspired you to become a fighter pilot?
I was inspired to become a "pilot" for as long as I can remember. I have many experiences (air shows, TV, roll models, desire) that lead me to aviation. It was only through hard work that I was selected to fly F-16s.
2) When did you join the Air Force, and what was your first flying assignment after completing Undergraduate Pilot Training?
I was prior enlisted in the USAF Reserve. I enlisted in 1981 for a few years to help pay for college. I showed up at Laughin AFB Texas in June of 1986. My first assignment after pilot training was flying F-16s at Hill AFB Utah.
Click here
for a larger photograph of Mark "Skippy" Lankford and his F-16.
3) What aircraft have you flown, and what are the different bases you have been assigned to during your Air Force career?
Other than T-37s and T-38s for pilot training, I have flown every block of USAF F-16 produced. F-16 Bases: Hill AFB Utah, Homestead AFB Florida, Moody AFB Georgia, Nellis AFB Nevada, Luke AFB Arizona.
4) Which models of the F-16 have you flown, and how many hours do you have in the Viper?
F-16A/B/C/D Models, all blocks, 2400+ hours
5) What was your best assignment and why?
I have two "best" assignments. My best for "operational" flying was and still is Hill AFB Utah. This is due to the Wing's mission, the ranges, the local area, and the summer flying weather. My other best assignment was at Nellis AFB Nevada as an instructor at the Fighter Weapons School. Nothing compares (except war) to the quality of Nellis FWIC "training" you experience....every day!
6) This year marks the ten year anniversary of Iraq's invasion of Kuwait and the beginning of Operation Desert Shield/Storm. Looking back, what was the experience of combat like for you?
"Cautious excitement." I feel very lucky to have been "called to play in the super bowl by the coach." I know so much more now. I wish I knew then what I know now. The most important lesson I took away from the conflict was the need to be ready for war...every day. Next time, future adversaries won't give us 6 months to prepare.
7) How many combat missions did you fly, and is there one particular mission that stands out more than any other?
34 missions. The first. I'll never forget the feeling.
8) What do you remember most about your time spent in the United Arab Emirates at Al Minhad AB?
The friendships built.
9) What have you been doing since the war, and where are you now?
Weapons School, Staff job, ACSC, operational flying. Hill AFB Utah, Chief of Wing Weapons.